Huawei presents its latest flagship, the Nova 10 Pro smartphone, still without Google.
It has been a few years since Huawei was banned from Google services on its technological devices. The very recent Huawei Nova 10 pro smartphone is no exception and, like its predecessor, relies on its in-house software to attract its loyal followers. In addition to this specificity, we are dealing with a smartphone that sports an intriguing technical sheet as it struggles to position itself on a specific range. What is the device worth once in hand? The answer in this Huawei Nova 10 Pro test.
Check the price of the Huawei Nova 10
Technical sheet
Before getting to the heart of the matter, here is the technical sheet of the Huawei Nova 10 Pro, which includes all its specificities.
Huawei Nova 10 Pro
Screen
– 6.78″ OLED screen
– Full HD+ definition (1200 × 2652)
– Density 429dpi
– Refresh rate up to 120Hz
– 1.07 billion colors
– 300 Hz touch sampling rate
Design
-Starry Silver
– Starry Black
SoCs and GPUs
– Qualcomm Snapdragon 778G 4G
– Adreno 642L
Memory
– 8 GB RAM
– 128/256 GB storage
Camera
– 50 MP Ultra Vision Photography main sensor, f/1.8,
– Ultra wide-angle 8 MP, f/2.2
– 2 MP depth of field sensor, f/2.4

– 60 MP front sensor, f/2.4
– Portrait 8MP, f/2.2
– Full HD video recording

Battery
– 4500mAh
– HUAWEI SuperCharge Max 100W
Connectivity
– Optical fingerprint reader under the screen
-Bluetooth 5.2
– Wi-Fi 6
– 4G
– Dual nano-SIM
– A-GPS+GLONASS, DNLA, Miracast (WiFi Direct), Google Cast
-NFC
– USB 2.0 Type-C
– Barometer, Gyroscope, Accelerometer
– Proximity and light sensor
Software
-EMUI 12
– HarmonyOS 2.0
Height and weight
– 164.24 x 74.45 x 7.88mm
– 191g
Starting price
– 699 euros
Availability date
– October 2022
Design, screen and ergonomics
A true UFO, the Huawei Nova 10 Pro remains quite classic in addition to its software part. The smartphone, however, sports an even more daring design than before. We find its famous curved back speckled with silver holographic sequins, for a very festive look. Without forgetting its few golden notes around the photo module, among other things, which no longer allows it to play in the court of subtlety.
Since the tastes and the colors are not discussed, we will say that it is a design that will suit the most original, the rest of the consumers will be able to fall back on the Starry Black model, more discreet. However, we regret its imposing appendix at the level of the camera, which does not allow it to lay flat even with the protective shell.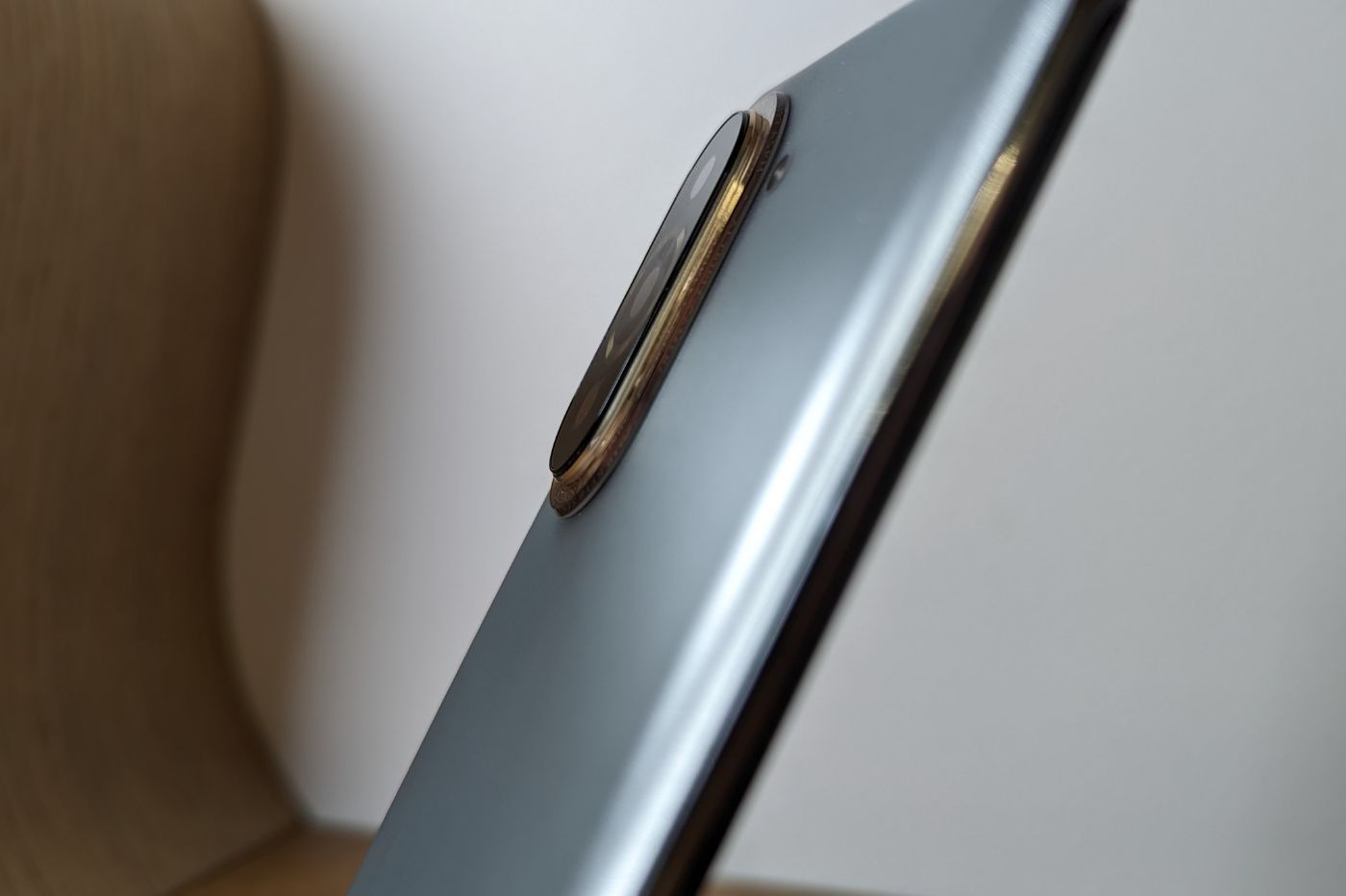 The grip remains classic, with a featherweight of 191g, which is particularly pleasant for the wrist. We note USB-C connectivity and the absence of a 3.5 mm jack port, which is starting to become the norm on smartphones in this range. We also appreciate the placement of the buttons which remains very intuitive.
On the screen side, the Nova 10 Pro has a 6.78-inch OLED panel for Full HD + definition (1200 x 2652) and a refresh rate of up to 120 Hz. The whole thing is responsive and has never disappointed us. or the business activity. As usual, however, we regret to see that the treatment of colors has not changed at Huawei. The whole thing seems extremely dull and low in contrast to us, although the brightness is quite satisfactory.
Performance and Autonomy
Those who are already familiar with the features of the Huawei Nova 9 will notice that nothing has changed a generation later, which is rather disappointing. Inside, there is still a Qualcomm Snapdragon 778G chip, in addition to an Adreno 642L GPU. We are very far from the current standards for this range of smartphones, especially since this configuration will not let you take advantage of 5G.
This remains satisfactory for most daily activities, but we are still far from performance that will allow you to test the smartphone on demanding games, for example. The Nova 10 Pro also has 8GB RAM as well as 128GB or 256GB of storage. We let you take a look at the benchmark (the only one we could find on the device), the results of which remain convincing without being transcendent.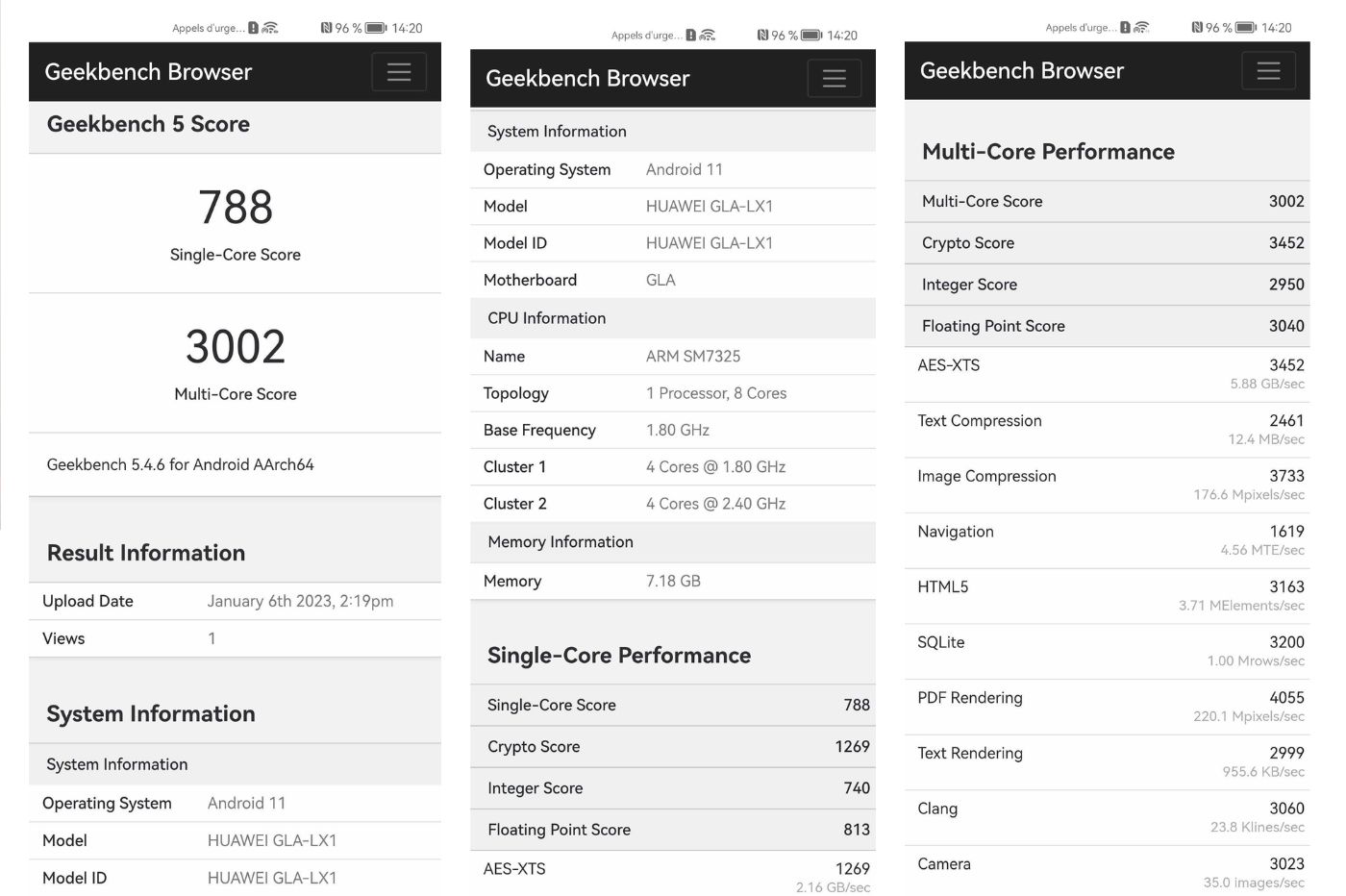 At the battery level, the Nova 10 Pro has a capacity of 4500 mAh, so there is a clear improvement compared to previous models. In fact, the battery will last you long enough for one or even two days of use, and almost does not discharge when you are not using the smartphone. For the charging part, the SuperCharge cable and adapter (max 100 W) allows you to hold on in just a few tens of minutes.
Photo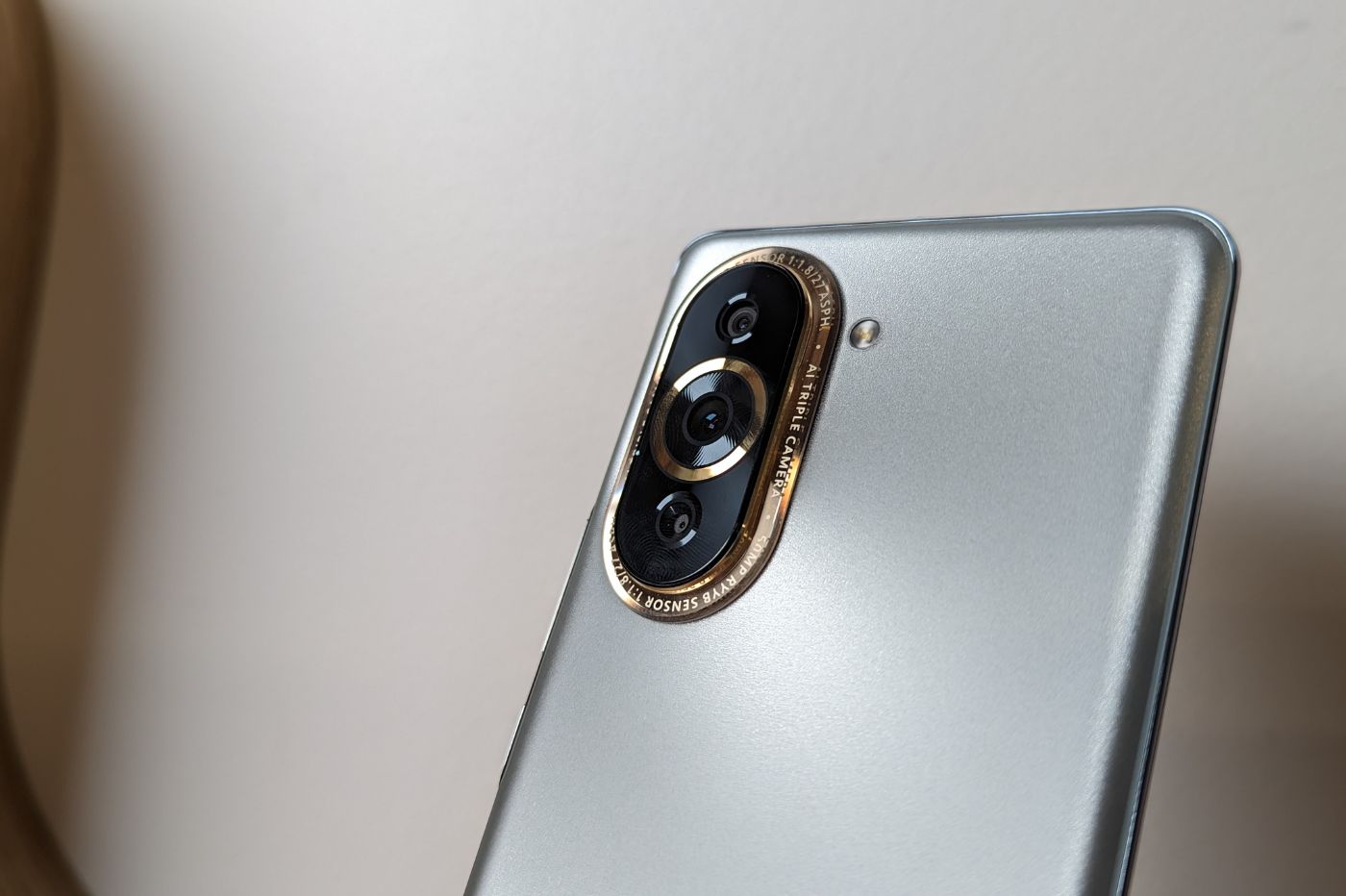 The Huawei Nova 10 Pro has like its colleagues a myriad of sensors. At the back, there is a 50 MP main sensor with an aperture of f/1.8. Below, we have an 8 MP ultra wide-angle, f/2.2 aperture, and finally a 2 MP depth of field sensor, f/2.4 aperture. A 60 MP punch sits on the front along with an 8 MP specialist portrait sensor. An arsenal that will not be enough to take pictures of the expected quality.
Overall, the photo part is rather disappointing for a device at this price. If in the middle of the day, the shots are just satisfactory, we still notice the same problem in terms of sharpness but also color processing (whatever it could come from the dull screen). At night, things go awry, and the photos become barely decent. Here are some picture examples.
Only one being is missing and everything is depopulated
The regulars of Android smartphones will inevitably be lost when switching on the Huawei Nova 10 Pro, which does not have Google services. A priori no problem, since the brand pales to this absence by offering its own in-house software. But what are they worth and can they really replace GAFAM in terms of performance and ergonomics?
After a necessary period of adaptation, we are gradually finding our marks on the EMUI interface. There is an application store, a mapping service, a web browser and even a suite of professional applications. In terms of quantity, the smartphone is all that is most complete. Too bad the quality isn't up to par.
If some efforts are made at Petal Maps, among others, we often find ourselves frustrated to see that a lot of mobile applications or games are missing. The Nova 10 Pro has a fairly outdated ecosystem. If you use your device regularly and extensively, then you will feel a noticeable difference. The biggest is in the notifications interface. The notification center is available by swiping down the left part of the screen, the right part being reserved for quick settings. A mechanism that destabilizes at first glance but which we quickly get the hang of.
Price and availability
The Huawei Nova 10 Pro smartphone has already been released at the recommended price of €699. However, it is not yet marketed in France, so you will have to settle for the Huawei Nova 10 displayed at a price of €489 on Amazon.
Buy the Huawei Nova 10 on Amazon