Elon Musk took the lead in the latest Forbes 2022 billionaires ranking with a fortune exceeding the $200 billion mark, thanks in particular to his companies Tesla Motors and SpaceX. Go-getter and visionary, the billionaire seems to have inherited the qualities of his no less famous mother, Maye Musk, queen of the international podiums for more than 50 years. This beautiful and elegant fashionista has always been part of the rich and famous, and this long before the irresistible rise of her son. Just look at it to see that time has had no hold on it. Last January, at age 74, she was in the front row of Fashion Week in Paris, and, as usual, in top form. Still as resplendent as in 2017, when she became, at the age of 69, the face of the Cover Girl beauty products brand and the oldest of its ambassadors. In A Woman Makes Plan: Advice for a Lifetime of Adventure, Beauty, and Success published in 2019, Maye Musk shares the secrets of her form and the success of a life she describes as "cautious and dangerous", while at 31, she had to fight alone to raise her three children. Finally, last year, she was hired by the Creative Artists Agency, based in Los Angeles and specializing in the promotion of talent.
Maye Musk: when glamor meets elegance. Photo taken from the Instagram page @mayemusk
Shock for a good cause
The rich and long modeling career of Maye Musk, which has essentially taken place in the United States where she currently resides and in Canada, has been marked by intense moments. Shocking doesn't scare her as long as she does it elegantly, just like appearing in Beyonce's Haunted video. In 2011, the beauty even posed at the age of 63 naked and pseudo-pregnant on the cover of New York magazine, resuming Demi Moore's famous pose on the cover of Vanity Fair magazine in August 1991, with a title asking the question question: "Is she too old for that? "She stripped naked again in 2018, this time on the cover of Time magazine… With images transmitting a message of better living, because this top model is doubled by a dietician, a specialization she had acquired in the 70s at the University of Toronto and from which she had graduated with a master's degree in nutritional science.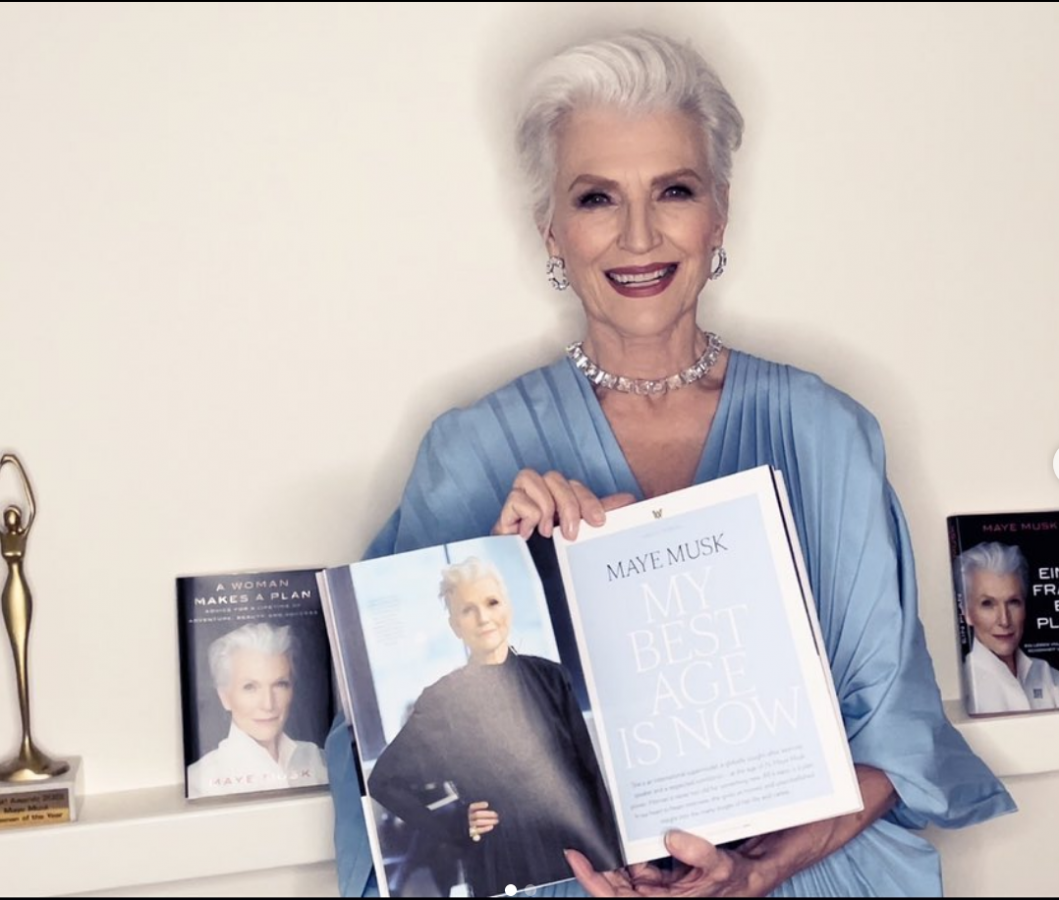 Maye Musk: when glamor meets elegance. Photo taken from Instagram page @mayemusk
A salty sweet life
Maye, Kaye's twin sister, was born Haldeman on April 19, 1948 in Canada. Two years later, his parents chose to settle in Pretoria, South Africa. In 1969, she was elected Miss South Africa before marrying an engineer named Errol Musk the following year. The couple had three children (Elon, founder of SpaceX and Tesla, Kimbal, entrepreneur, and Tosca, director), but divorced in I979. After completing his secondary studies, his eldest son, Elon, flies to Canada where he begins university studies. His mother joined him six months later and pursued a modeling career that would take her to the United States. In turn, Elon finds her in the land of Uncle Sam where everyone will forge a spectacular success. Maye parades for mass labels as well as for prestigious labels. Her face with well-sculpted features and her short, silver hair, which had become her "quality label" and her brand image, would make the covers of the biggest fashion magazines. The older she gets, the brighter her star shines.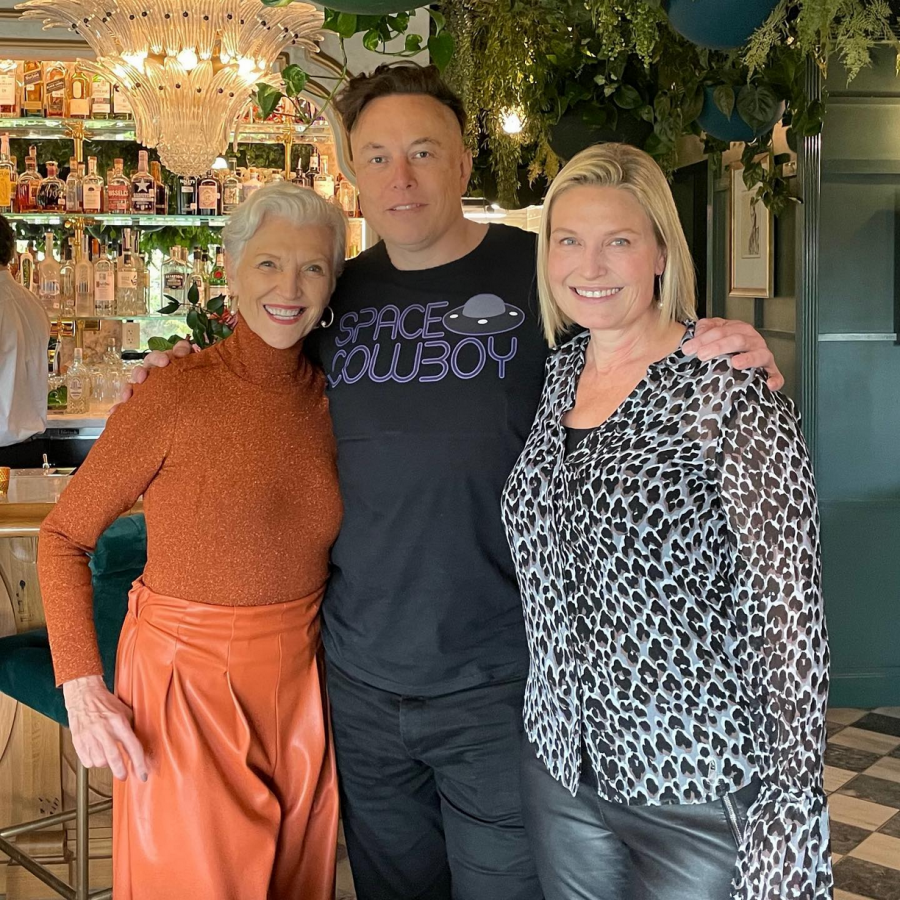 Elon Musk surrounded by his mother Maye and his sister Tosca. Photo taken from Instagram page @mayemusk
Silver hair, glamor and glory
Maye Musk attributes this upward trajectory in particular to her decision to stop dyeing her hair, thus launching a fashion that would be followed by many women of her generation. With elegant short white hair, giving her extra glamour, she landed very notable appearances on the catwalks, which many envy her, and marched for IMG, the agency of the big names in modeling, which includes among others the Brazilian Gisele Bundchen. Socialite, with a presence appreciated in important events, she is always where it should be: at the Met Gala, on the arm of her illustrious son Elon Musk, at the wedding of Lady Kitty Spencer (niece of Lady Di), where she has was described as one of the eight most stylish guests, and, last year, on the essential American television show "Saturday Night Live", also alongside her son, on the occasion of Mother's Day. "I think it gives women hope and confirms that they can, as they age, continue to work and be confident, consistent and comfortable with themselves," Maye Musk told Forbes magazine about of his performance. "I will never retire," she confides, this time to the New York Times. My mother never retired. I'll work until they don't want me anymore, then I'll find something else. And I will always be a dietitian, doing nutrition research, which I love. "While it was predicted, when she started modeling at 15, that her career would be over at the age of 18, today she continues to be the goddess of supermodels. While being very aware that "it's so different now, and the standards are very high". Nevertheless, Maye Musk is still a dream. "Young girls stop me in the street and tell me that my career gives them hope, because if I do this at 70, they can do it at 25! she confides to the website Marketwatch.
Elon Musk took the lead in the latest Forbes 2022 billionaires ranking with a fortune exceeding the $200 billion mark, thanks in particular to his companies Tesla Motors and SpaceX. Go-getter and visionary, the billionaire seems to have inherited the qualities of his no less famous mother, Maye Musk, queen of the international podiums for more than 50 years. This fashionista…