In one year, Tesla shares have lost almost 73% of their value. Elon Musk's benevolent response to Dimitri Medvedev, the former president of Russia, was the last straw for thousands of investors who can no longer bear the billionaire's slippages.
Can we lose tens of billions in a single tweet? Elon Musk just proved it.
While Tesla's economic health worries the world of finance, which wonders if Elon Musk is the right person to drive the star of the electric car, the interested party saw fit to respond to tweets from Dimitri Medvedev, the current deputy chairman of Russia's Security Council and Putin's right-hand man, to tell him that he found his tweets "epic".
Four hours later, Elon Musk clarified that he had in fact wielded irony, and that he did not believe at all in the predictions of the Russian statesman (who predicted the return of the United Kingdom to the EU, the collapse of Europe, a war between France and a "4th Reich", as well as a civil war in the United States, just that).
This new deviation from Elon Musk caused Tesla stock to lose 11.41% of its value on December 28.
Elon Musk is ruining everything
Visiting Elon Musk's Twitter is a funny experience. While Tesla shares are collapsing (from 399.93 dollars to 109.10 dollars in one year, a drop of 72.72%), the billionaire only seems to be interested in ideological battles. Few of his tweets about the economic situation of his companies, and these usually overwhelm Democrats or the media. Instead, Elon Musk prefers to denounce the defenders of the Covid-19 vaccine, the "wokes", the pro-LGBT, the media which would be machines for creating lies, the government of Joe Biden, leftists and people who don't appreciate his humor.
Of course, remember that the drop in Tesla stock is not 100% due to the billionaire's tweets. The global economic context is not favorable to anyone and would have played tricks on Tesla anyway. At the same time, several analysts were also alarmed about the risk of seeing orders drop and seeing factories put on hold. Either way, Elon Musk isn't really helping his business.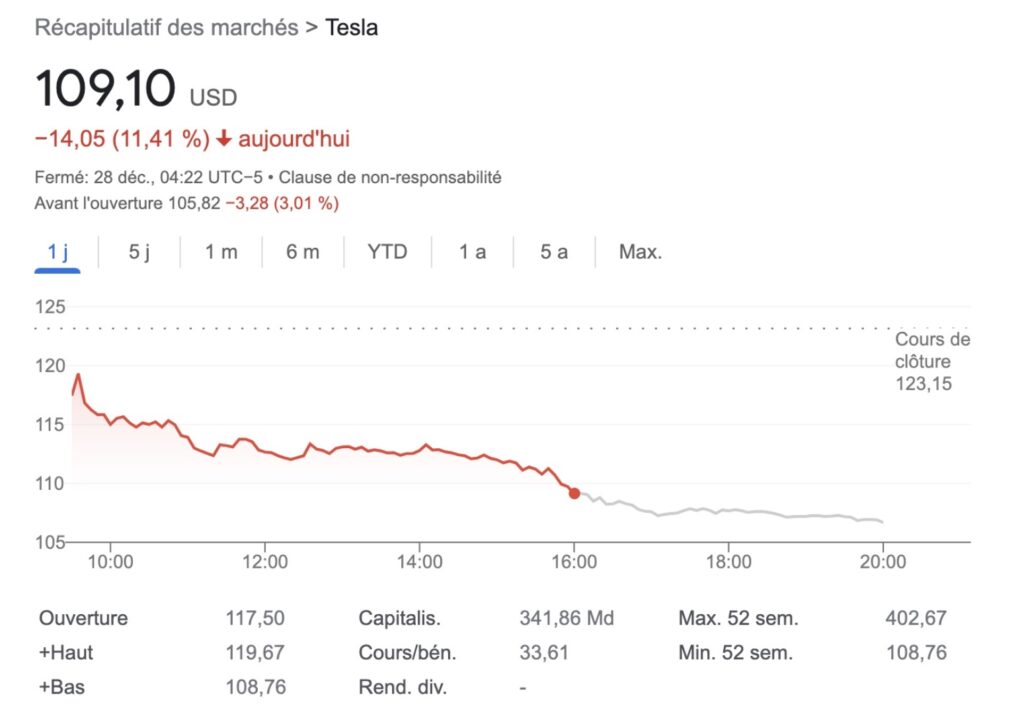 For Elon Musk, it's all about the culture war. The billionaire, who was, less than a year ago, one of the most respected people on the planet, no longer gives any room for nuance and divides the world into two categories: those who agree with him and… the leftists. How not to see a huge mess? Elon Musk, although controversial for several years, was much less divisive before embarking on the Twitter takeover.
This is not the first time that his link with Russia has been pointed out. Elon Musk has been accused of talking to Putin after the war started and has previously spoken publicly with Medvedev.
Can Elon Musk be fired from Tesla?
Elon Musk has another problem: his entourage. As his private text messages revealed during his lawsuit against Twitter, Elon Musk seems surrounded only by people who tweet like him, constantly encourage him and publicly insult his critics. Is it necessarily bad? While most people generally share values ​​with those close to them, Elon Musk's responses show that the people he interacts with are more interested, even totally alienated, than encouraged. The bubble in which the businessman has locked himself in shrinks further and, without his realizing it, isolates him. The billionaire plays a very dangerous game, which we hope he will get out of without having done too much damage.
On the Tesla side, what could be the outcomes of this fall? As several investors point out, Elon Musk sold tens of billions of dollars worth of Tesla shares at the time of the peak, as if he was expecting this revaluation? Some are beginning to want him gone, while others are still defending him. The problem is that Tesla is getting way too volatile and Elon Musk could lose control if he's not careful. A fate à la Steve Jobs, who had been fired from the Apple that he himself had created, went from improbable to possible.