Google's AI-assisted smart speakers are backed by Google's powerful search algorithms and ecosystem, making them a great addition to any smart home. If you're considering buying these, or received two as a gift, you might be wondering what multiple Google Nest or Nest Hub devices are capable of.
Strategically placed in your home, can multiple Google Home or Nest devices improve your life? This topic explains what you can do with multiple Google Home and Nest devices and why it's worth it.
SQUIRREL_168546
Setting up multiple Google Nest devices
Setting up multiple Google Home devices is a breeze. You can also mix and match smart home speakers, i.e. you can go for a Google Nest Mini in the bedroom and a full-sized Nest Audio in the living room, or just a multitude of Minis spread around the house. The choice is yours.
Start by downloading the Google Home app for your mobile device (if you haven't already) and make sure your Google Home or Nest devices are plugged in and turned on.
Once done, open the app and press "Start". You can then follow the app's instructions to set up the speakers and connect them to your account.
If this is your first time setting up a Google Home or Nest device, we recommend reviewing our 'Tips & Tricks' article to get the most out of your initial setup.
Repeat the process until all devices are linked to your account and operational. That's when the serious things begin.
Communicate Between Rooms with Broadcast
One of the joys of the Google Home/Nest system is the ability to broadcast messages between devices in the house. This means you can send voice messages from one of the smart speakers to all other Google Home devices. We've covered how to set up broadcasting in another article, but once setup is complete, just say "OK Google, broadcasting…" followed by the message you want to send.
This feature records an extract of your voice which is then reproduced on other devices in the house. It's worth noting that if people aren't expecting to hear the message, they may be caught off guard, so it's worth making sure you get their attention first. For example, "OK Google, listen up everyone, it's dinner time" is sure to grab people's attention on the dinner table.
Control a Google Home/Nest device with another device
In the Google Home app, you can give your speakers a name of your choice to help you identify them. For that, proceed as following
Open the Google Home app.
Click the Home icon at the bottom of the screen
Scroll down to the relevant device
Click on the cog to access the settings
Then find "device name" and set a suitable device name.
This operation has other advantages than the simple possibility of easily identifying each loudspeaker in the application. Certain commands to Google can then be used to control one Google Home device from another. For example, if you're in the kitchen and say, "OK Google, play a chill playlist on my living room speaker," that's exactly what you'll be doing.
You can also program timers or alarms for one speaker from another, so you can set a 10-minute timer on your Nest Hub Max in the kitchen from your Nest Audio in the living room, or vice versa. versa, for example.
Setting up groups for multi-room audio
If you want the music to reverberate throughout your home, the good news is that Google Home devices are capable of that too. All it takes is a few setup steps and you're done.
Follow these steps to create the group:
Open the Google Home app
Click the Home icon at the bottom of the screen.
Click the add symbol in the upper left corner
Click on "create a group of speakers".
Select the Google Home speakers you want to include, then choose a logical name for the group.
Once that's done, you're ready to stream music to the speakers in that group. Multi-room music playback supports Spotify, TuneIn Radio and YouTube Music. So just say "OK Google, play my party playlist downstairs" for the music to play (replace "party playlist" and "downstairs" with the name of your song/playlist and group name respectively).
Unfortunately, Google doesn't support multi-room audio for other things you might like. Podcasts, for example, can only be played on one device. Alarms and timers are also limited to the device on which they are requested. If you set a timer using a Google Home in the kitchen, it won't be transmitted to other Google Home/Nest speakers in the living room or bedroom, for example, which is a shame because such a feature would be helpful.
Enabling multi-user support and family controls
With multiple Google Home devices in the house, it's reasonable to assume multiple people will have access to it. Google Home/Nest devices are capable of supporting multiple users with a few simple setup steps.
Open the Google Home app
Tap the Home icon at the bottom of the screen.
Click the add icon in the upper left corner
Tap on "Add a person at home".
Enter their email address
Read what's shared, including all devices, and send.
We have already explained in more detail how to do this. It's basically for each person to link their Google account to the Google Home devices in the app on their own phone or tablet and follow the voice learning model so that the smart speakers recognize them when they make a request.
Implementing multi-user support helps ensure that today's briefings, calendars, and even playlists are properly synced and that everyone in the household gets the results they expect when they talk to Google. This feature doesn't require multiple Google Home devices, but it's definitely worth setting up if you have more than one.
Google Home also supports "Family Link", which allows for tighter parental control between a child's Google Account and the Google Home device. This makes it easier for parents to manage kids' internet use with Google Home and with their devices, to keep them safe online, whatever they're doing. This also helps prevent accidental access to inappropriate content that could be cast from Google Home/Nest devices to a Chromecast or other streaming device.
Voice match for music streaming
The added benefit of adding multiple users is that each member of the household can use voice matching to request music from their own favorite music streaming service. In theory, this means people won't mess up your Spotify playlists with their unwanted tunes anymore.
Follow the steps above to invite each household member, then click the add icon at the top left of the add home page, and select Music from the Add Services section. From there, you can then select your preferred music service. Have each household member do the same and link their own account.
It's also helpful to have each person set up voice matching correctly to teach Google Assistant to recognize different voices in the house.
For that, proceed as following
Open the Google Home app
Click your profile icon in the upper right corner.
Tap Assistant Settings
Scroll down to "Voice Match".
Follow the instructions to teach Google Assistant your voice and invite others to do the same.
From here you will also see which devices are included and are able to recognize your voice. Then, as long as the voice is recognized, the correct account will be used for each person in the household, providing a much more personal experience.
A similar process lets you do the same for Netflix, ensuring everyone watches and listens to their favorite content without disrupting other people's profiles.
To learn more about setting up Voice Match, click here.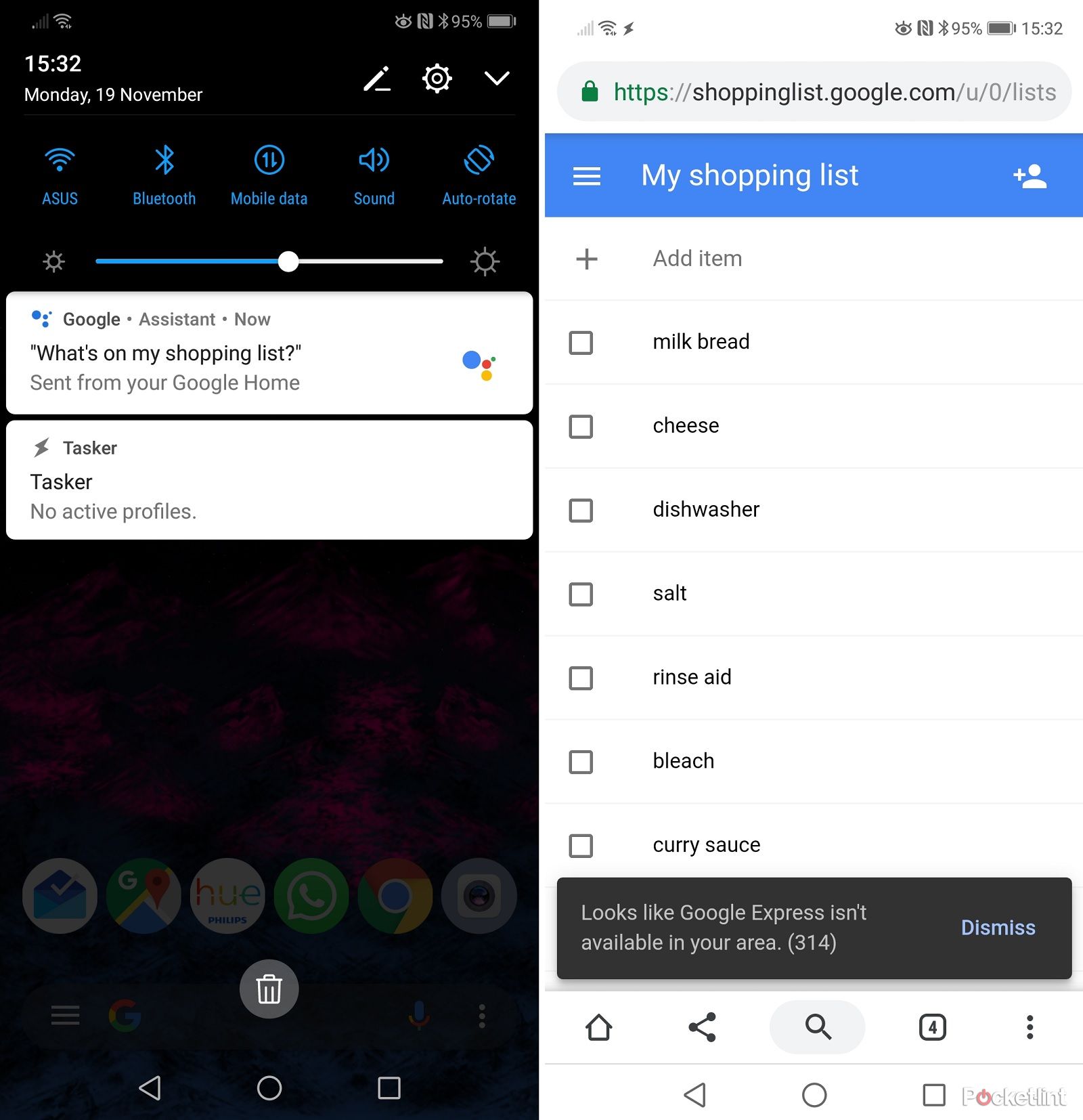 Reminders, calendars and more
Because it's linked to your Google account, reminders, shopping lists, and your calendar are synced across devices. If you set a reminder on a Google Home/Nest device, you will receive a light notification on the other devices at the specific time to prompt you to do so when the time is right.
Another example: if you say "OK Google, add milk to my shopping list", that's exactly what you'll do. You can then access this shopping list from any Google Home/Nest speaker by simply asking "OK Google, what's on my shopping list". To make your life easier, you can also ask Google to send the list to your phone by asking it to do so immediately after: "OK Google, send this to my phone".
The shopping list is then sent to your phone where it can be accessed via the Google Assistant or directly on the dedicated Google site.
Is using multiple Google Nest/Home devices worth it?
There are plenty of features that work across multiple Google Nest/Home devices, which justifies having more than one.
Using multiple devices of course depends on how you plan to use the speakers, but even as a basic multi-room audio system it's a real treat. As with the Amazon Echo range, you don't need to have multiple devices in your home to get a great smart home experience, but it does enhance it and make your life easier in many ways.
SQUIRREL_148299