Thursday, January 19 at 9 a.m., Stadia closed its doors. Numerama experienced the event live on Twitch, until the service completely died around 9:30 a.m. We tell you about the course of this funny morning.
Stadia is no more. Thursday, January 19, as Google announced in September, the game service in the clouds stopped working. Blame it on the disengagement of Google which, after having launched into the world of video games with full ambition in 2019, quickly realized that it did not want to take care of it. For 3 years, Google kept repeating with every rumor that, no, Stadia was not going to be abandoned. But his fate was sealed.
The total absence of new features and the flawed marketing of Stadia had however fooled no one, Google, which reimbursed all the euros spent by the players who believed in it, even if it meant digging a little more into Stadia's debt, finally threw in the towel. Numerama witnessed the death of Stadia live, on Twitch.
Stadia's final hour (and overtime)
Thursday January 19, Numerama made an appointment with its subscribers on Twitch to witness the end of Stadia. At 8 a.m., Nicolas and Julien went on the air for this last morning of cloud gaming. They knew the service was scheduled to close at 8:59 a.m. (11:59 p.m. in California), but did not know what form that closure would take. Sudden black screen? Possibility to play longer? Numerama experienced the event live.
For an hour we played several games. FIFA 22, Worm Game (the game that served as a guinea pig for Stadia engineers), Farming Simulator 19, Golf with your Friends… At the same time, we discussed with our spectators the history of Stadia (we thank them very much for their pertinent remarks). A service spoiled by a Google that did not know what to do with it, while Stadia was formidable in its efficiency. The proof, there was not a single technical bug during our entire gaming session. We were however connected by Wi-Fi, several meters from the box.
At 9 a.m., Stadia did not turn off. We were able to finish our round of golf, although several people in the chat indicated that errors were starting to appear. Back on the Stadia home page, we did indeed notice several games not starting. Stadia was dying.
Ironically, Faming Simulator 19 was the last game still running on our Stadia account. We played there until 9:40 a.m., when the Stadia homepage was replaced with a goodbye message. The stadia.com site became stadia.com/gg (for Good Game), with the impossibility of going back. Stadia was dead and we couldn't finish plowing our field.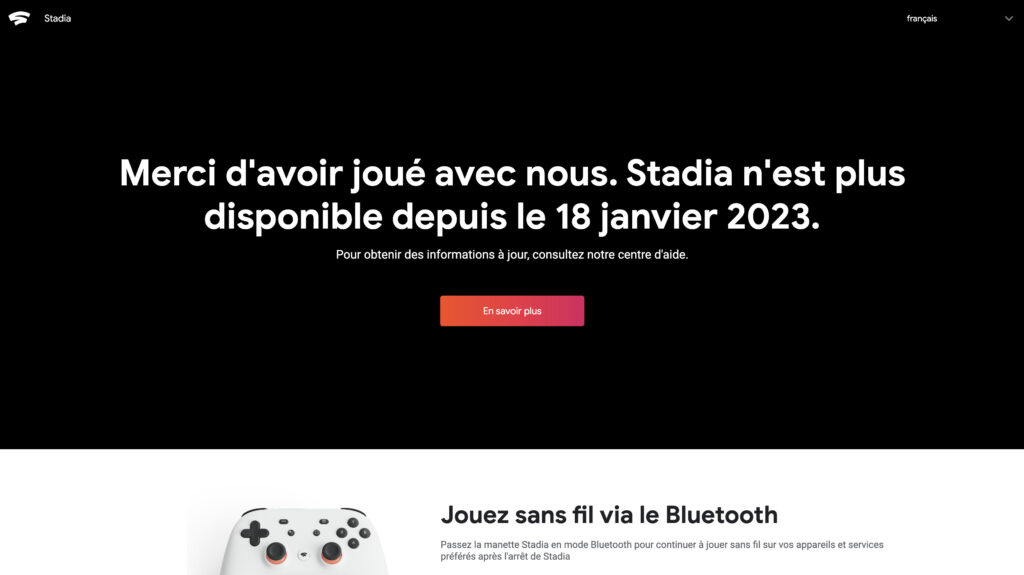 The Stadia site only offers one thing: update its Wi-Fi controller to transform it into a Bluetooth controller. Goodbye, little angel gone too soon.
For further

Stadia will be missed
Stadia wasn't a disservice. On the contrary, it was arguably the most compelling cloud gaming implementation on the market. Shadow, Nvidia and Xbox also have offers, but Google's was the closest to what we could hope for the future of video games. Why ? For its simplicity.
Available on almost all devices on the market (even if Google hasn't taken connected TVs seriously enough), Stadia made it possible to play games without a console. It was enough to go to a site, choose a game and launch it. The loading time was quite short, while the fluidity of the game was often far superior to what the competition offers. Technically, Stadia was an impressive service. It is at the level of the rest that Google has not been up to par.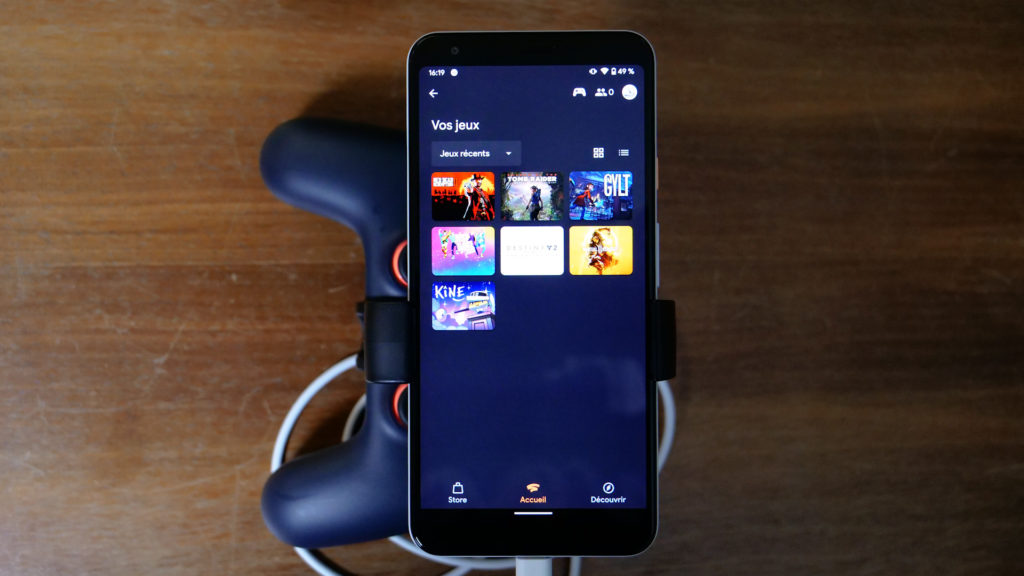 Google lacked seriousness. After promising that Stadia would be a platform with exclusive games, the web giant quickly changed its mind. Without leaving any chance for Stadia to make itself known to the general public.
The business model was also bad. Initially, Stadia was just selling games. Fairly quickly, Google evolved it into a catalog model. A subscription allowed access to a hundred unlimited games… but Google never took the time to communicate on it. At the time of Stadia's death, how many people know about this subtlety? We can also deplore the unavailability of certain functions promised at launch, such as game assistance with Google Assistant or the possibility of inviting spectators to play on YouTube.
Stadia will be missed, since none of its rivals offer such an immediate catalog. Google will now offer its technical platform under white label, but the magic of its service will probably not be available anywhere else.
---
If you liked this article, you will like the following ones: do not miss them by subscribing to Numerama on Google News.